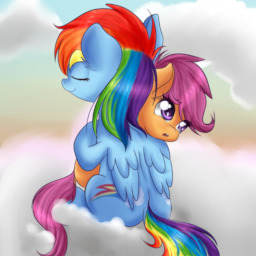 Source
After a day full of excitement, and a sleepover at Rainbow's, Scootaloo is brought above Canterlot to witness the princesses lower the moon and raise the sun. As Rainbow shares how she first came across the perfect vantage point, Scootaloo is yet again reminded of what she lacks. Her feelings, bottled-up throughout the years of frustration and envy, finally explode in a nervous breakdown.
It's up to Rainbow to remind the filly just how strong and awesome she really is.
===============
Cover art by the insanely talented Chiweee.
Chapters (1)