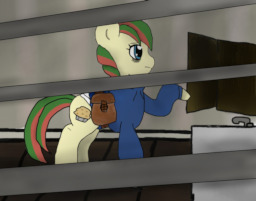 One day in the magical kingdom of Equestria, a curse is cast across the land. A curse that causes the dead and dying to rise to feed off of the living. This story is about Autumn, one little baker caught in the midst of the curse, and must travel the land with her group of friends in an attempt to save the world.
Will she succeed? Or will the dark power behind all this be to powerful to face?
(please note a revised version is in progress! somethings from this version will still be implemented so I like to consider the re-write an alternative reality version, though it will be the same in the end. thank you for reading!)
* also, this version will still be available, the rewrite is currently out and avialable here . And please don't post spoilers in the comments :D thankyou!
Chapters (33)