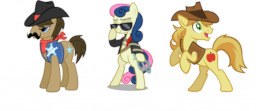 "You want me to tell you about the Pumpkin Terror case?"
"Eesh, that was a crazy one. It all started when Princess Celestia gave me the strangest brief... pumpkins growing on trees? In Appleloosa? Really?"
"Turns out, when I got there, it was much more than some childish prank. Something big was going on, a something that threatened the whole town."
"Good thing I had two of Appleloosa's finest to lend a helping hoof—from the very start, things went wrong, and I ended up with a countdown on my life..."
Chapters (1)