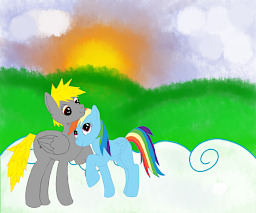 This story is a sequel to Bad Luck
---
20,000 views? Damn! Thanks, guys! Also, I just realized that my OC, Starlight, from this 4-year-old story, shares her name with Starlight Glimmer, who was recently introduced to the show. Small world, I guess?
Rainbow Dash and Thunder Flash are back in the sequel to Bad Luck. In the previous story, we found out that Rainbow Dash's deepest desire was to have a family. This is the story of that family.
The cover art was made by AMaleAlicorn. Thank you for your hard work!
Chapters (12)