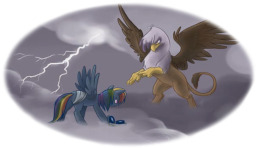 Source
This story is a sequel to Flying Blind
---
Crying? The great Rainbow Dash crying? To most, the idea is unfathomable, to other the idea is possible, but to The Wonderbolts, it's no idea. Rainbow Dash was crying. She's been crying since it happened.
While she secluded herself from the hateful world, Rainbow begins to develop an odd sickness. Mornings spent throwing up. Fevers. And a whole slew of odd things.
But she soon discovers that Legs may not be as far away as she had thought.
A/N: Anthropomorphic, 1st person from Rainbow Dash's and Legs' point of view.
Join the fan group here: Legsverse
Chapters (5)