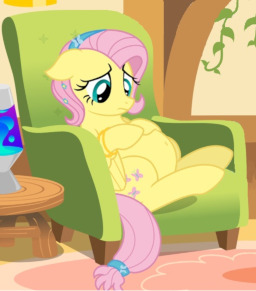 Whoa, 10,000 views? On a one-shot? Thanks for all the support! Also, thanks to viewers for featuring this on /mlpchan and Pastebin! ...I guess.
"Hello. My name is Fluttershy. I am a shy young pegasus mare, and also the bearer of the Element of Kindness. And, unknown to others, I am a fairly good writer. My shyness does not show on paper, as you can probably see."
"I am sitting here right now with my new foals, Butterscotch and Rosebud. They are nursing right now, but that is beside the point. I'm here to tell you the story about how they came into the world."
Follow Fluttershy as she takes you through the hilarious and touching story of the birth of her two foals! Eight and a half months of denial, and now it's getting really difficult for her to hide her condition. How are Twilight and her friends going to find out?
4/20/20 - Happy 6th birthday, Butterscotch and Rosebud!
Chapters (2)