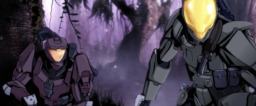 This story is a sequel to Warriors
---
Princess "Warlock" Twilight Sparkle and the headhunters have made it back to Equestria. But the darkness is coming and soon a force of unstoppable might will be unleashed upon ponykind.
With the Covenant looming, Marko, Ishmir and Twilight risk life and limb in a lethal race to reach Canterlot; to meet the Covenant head on; and to guard Equestria from destruction.
Halo (non-canon) vs. My Little Pony (season 4) Crossover
Rated Teen for gratuitous swearing and violence.
Chapters (6)