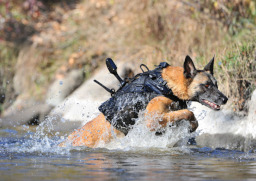 Source
This story is a sequel to Canis Fidelis: Harmony
---
What has four legs, wears a bullet-proof vest, can hear you through a solid concrete wall and has a set of highly-trained fangs that can exert up to seven-hundred pounds of pressure per square inch?
In Equestria, there are lots of things like that. But only one of them stands at Princess Luna's side, protecting Equestria as he once protected his own world.
His name is Bungee, and he is a Military Working Dog.
It has been a year since Lieutenant Rourke threatened the harmony of Equestria. But the thing about danger; it's always lurking. A long forgotten foe rises against the land. An ancient threat that has been plotting her revenge since the dawn of Equestria.
The reclamation has begun. And it falls upon the faithful dog to stop it.
Rated Teen for violence
Chapters (2)