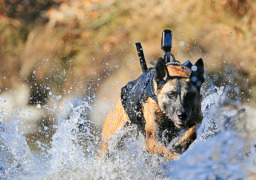 Source
What has four legs, wears a bullet-proof vest, can hear you through a solid concrete wall and has a set of highly-trained fangs that can exert up to seven-hundred pounds of pressure per square inch?
One word; Bungee.
Bungee has been a Military Working Dog for as long as he can remember, trained from a pup and turned into a highly effective member of the armed forces. He sniffs out bombs, clears rooms, scouts compounds and assists with flanking manoeuvres to disable dangerous personnel. More than just military equipment; Bungee is a brother in arms. A warrior.
But when a mission goes wrong and Bungee chases a high-value-target through a magical portal; how will the German Shepherd adjust to life among talking ponies?
And how will he manage to complete his mission if he's considered a pet instead of a soldier?
Rated Teen for violence.
Chapters (16)