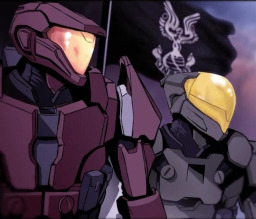 This story is a sequel to Headhunters
---
The headhunters came, saved the day, and then they left. But in their wake they not only left a pile of Covenant bodies – they left Princess Twilight Sparkle with a spark of wonder. An interest in the galaxy that surrounded her little home planet; an interest in the lurking dangers and the magnificent wonders of the universe.
Unfortunately it seems some of the danger and wonder is coming to visit Equis. So it's time for the bookish shut in to throw herself into the galaxy to find the warriors who would help her defend her home.
Halo (non-canon) vs. My Little Pony (season 4) Crossover
Rated Teen for gratuitous swearing and violence.
Chapters (7)