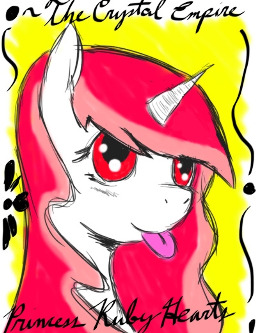 Source
Ruby-Anna J. Hearts, daughter of Princess Cadence and Prince Shining Armor, and sister of Sapphire and Emerald, goes on a roller coaster ride of finding her true self after being escorted to Canterlot. There, she is claimed as one of the princesses of The Crystal Empire. She meets her sisters for the first time in a long time and finds her true love - Prince Kasper Outland Blaze, one of the three triplet sons of Princess Celestia. Ironically, he is also a triplet. It's so kawaii!

---
EDITED CHAPTERS:
Prologue
Proofread and helped edit:
TheBlazeBrothers
NOTICE! CHAPTER TWO WILL SOON BE TEMPORARILY UNPUNISHED FOR OF EDITING. I'M ALMOST BACK ON FULL SHIFT TO COME BACK TO MY WRITING. THANK YOU FOR YOUR SUPPORT.
I hope you enjoy my first story. It's based off one of my three alternate personalities. The Hearts Sisters - Ruby, Sapphire and Emerald are all my personalities. I will be make another story based off of another triplet just as soon as this one is done. I hope you like the series and thank you all who read it.
Chapters (4)