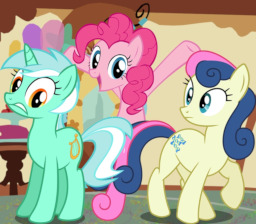 Lyra and Bon-Bon have been dating for awhile now, but because they are fillyfoolers, they've decided to keep it secret - at least for now. However, when Lyra's friend slips up and tells Pinkie that it's their anniversary, Pinkie thinks she means "Best Friends Anniversary" and decides to throw a... PARTY!

Will there romance stay secret under the eyes of anypony with un-Pinkie-ish logic?
POV Characters:
Lyra Heartstrings
Amethyst Star (AKA Sparkler)
Other Characters:
Bon-Bon AKA Sweetie Drops
Pinkie Pie
Rainbow Dash
Cover art edited by me, vectors by:
Pinkie Pie: http://pikn2.deviantart.com/
Bon-Bon: http://cooltomorrowkid.deviantart.com/
Lyra: Unknown
Background: http://thelastgherkin.deviantart.com/
I'm not nearly as pleased with the outcome of this as I was with Practice. But oh well, here it is!
Hope you enjoy it.
Constructive criticism is welcome, but please try to be kind about it.
PS: Unfortunately I cannot use the "It's my first fic" excuse for it being bad any more... is there such a thing as a "It's my second fic" excuse?
Chapters (2)