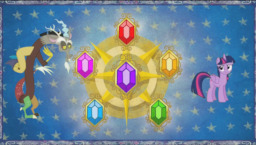 Source
This story is a sequel to The Evolution of Harmony
---
When Discord wakes up from his month long nap after the battle with Lord Tirek, he finds he's lost his mojo. How can he get it back? Maybe the ponies can help – or maybe the Tree of Harmony has the answer.
---
Sequel to The Evolution of Harmony
Not required to have read, but it helps with the setup and a few minor plot elements.
Chapters (25)