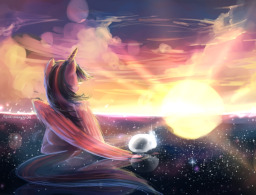 Source
A pony wakes up in an empty void and discovers that it is infinitely malleable to her whims and desires.
A loving tribute to pretentious, incomprehensible mind screws.
---
Many thanks to AquaGalaxy for the cover art! (Click the image to see it larger.)
Once you've finished this story, I recommend reading "Applied Starlight: Explained".
The genre tags are not correct. I'm not really sure what genre this story is, but if I could choose anything I wanted I'd probably go with [Ominous], [Puzzle], and [Parody].
Featured by Equestria Daily and The Royal Guard.
Chapters (20)