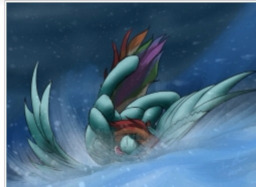 Source
I worked my whole life to stop this from happening. Yet here I am, hidden in the shadows, rain mingling with the tears running down my face. And I'm helpless to stop it.
Each chapter is a different sad story about one of the main characters. PLEASE NOTE THAT THEY ARE NOT LINKED.This is my first Fimfic story, so if you find anything at all wrong with it, tell me in the comments section or PM me. All constructive criticism is welcome.
The cover art belongs to JinYaranda on DeviantArt.
Table of Contents
Forgotten- Rainbow Dash
Ascension- Princess Twilight Sparkle Poem/Song
Supernova- Celestia [REWRITTEN!
Void- Luna- Partially inspired by Void by Jorofrarie.
Chapters (4)