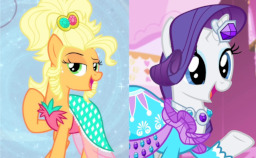 After Trenderhoof leaves Ponyville, Rarity and Applejack have a little talk over some drinks.
---
A little something that's been sitting around, mostly finished, ever since Simple Ways aired. I'm slow, ok?
Editing/proofreading/making it not suck done by Silent Tortoise.
Cover image produced by myself from stock imagery nicked off found on the MLP:FiM wiki.
Chapters (1)