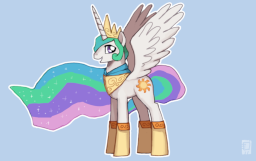 16/6/20 EDIT: Cancelled. I don't have any more idea of where this is going than I did all those years ago. May or may not revisit.
No biggie. Just trying to chat up the living embodiment of the sun. What could go wrong?
Twilight has finally gathered the courage to confess herself to the stallion she loves, the stallion who is ultimately responsible for every good thing to come her way in life.
Now if only it were simple to do so.
---
Partially R63 alternate universe, most things are the same otherwise (like, basically everything!).
Cover is a cropped version of this picture right here.
Mention should also go to Bud Grazer for running his eyes over it before I published.
21/12/15: Chapter 1 has been edited a little, in line with hopefully adding in a Chapter 2 soon!
Chapters (1)