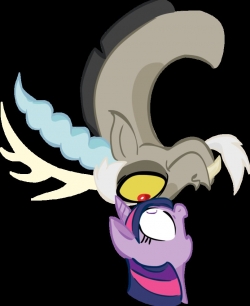 Source
Discord gets released from his Stone Prison after Celestia and Luna decide he might deserve another chance - taking away his powers and under the strict eye of the Princesses, it would seem Discord couldn't be more harmless.
He does cause a lot of chaos though, to the faithful student of Celestia, as she had eagerly took over the task of watching over Discord as well by giving him place under her own roof, hoping to learn more about the Draconequus' species, his powers and his motives, but surprisingly learning much more about himself as a person. Which puts her in many awkward, embarrasing and pretty hilarious situations most of the time.
An adventure of a silly one sided (???) love and a look into the heart of Twilight Sparkle.
Chapters (27)