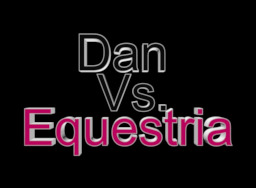 When Dan is sent to Equestria by Elise as a research trip, he wants nothing more than to get back home. Unfortunatley, the Elements of Harmony, Dan's only way of returning home, are stolen by the Great and Powerful Trixie, who hides them away in the Changeling's Kingdom. Now, Dan must join forces with the Mane Six to retrieve the Elements and stop Trixie before she demolishes Ponyville and builds a new city in it's place: Trixopolis.
Based on the Tumblr by Fluffy Mixer: http://dan-vs-fim.tumblr.com
This is before Season 3.
Chapters (14)