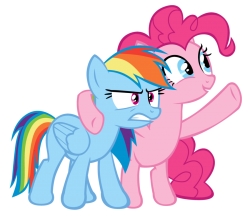 There comes a point in every ponies life when they sit down and wonder, "Is this it? Does this mark upon my flank determine who I am, or does who I am determine what is upon my flank? Was there ever a choice, or are we all caught up in the stings of destiny, no way to break free? Would it even be possible to venture forth, and go against my nature or am I doomed to stay as I am?"
Rainbow Dash's epiphany wasn't quite as deep as this. It worried her though, she started to act differently, more brashly. She distanced herself, kept things close to her chest. A close friend notices the signs, and decides to help her the only way she knows how. By dragging her to an amusement park and forcing her to have fun.
But it seems like the universe is trying its hardest to ruin this day, and there's something fishy about the park Pinkie decides they must go to.
Chapters (8)