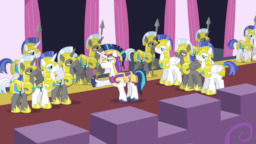 Source
War is ruin, predicted and then remembered as glory.
The Changelings and their vengeance-mad Queen grow ravenous in the south. Nations all around gaze hungrily at Equestria. In the north, beyond the Crystal Mountains, an unfathomable menace sends even the fiercest Diamond Dog packs fleeing before it. In Canterlot, a capricious Prince lusts for absolute power.
Against it all, Equestria stands toothless. Fearful for his country and thirsty for vengeance against Queen Chrysalis, Shining Armor desperately tries to convince Princess Celestia of the need for an Equestrian Army. Yet even as plans are made to march against the Changelings, the means for his triumph may have been delivered into the hooves of Prince Blueblood, who will risk everything to seize the crown he deems rightfully his.
Chapters (46)