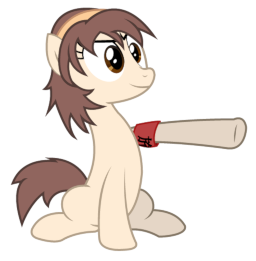 Source
A side-story of sorts to The Melancholy of Pinkie Pie. One commenter said I'd "ponified Haruhi Suzumiya", which wasn't quite accurate. I'd put MLP characters into the Suzumiya setting, which is not quite the same thing.
Well, now I HAVE ponified Haruhi Suzumiya and the SOS Brigade.
Spring Sunshine, self-declared leader of Canterlot's SOS Brigade and seeker of humans, time travelers and superheroes, has decided to go to Ponyville for this year's All Flowers Festival at the height of springtime. Her mission: to seek out and find that giver of candy eggs and other gifts, the Flower Hare. With her for the ride are Snowflake (secretly a transformed human), Rosehips (secretly a time traveler from the future), Green Arbor (secretly a part-time superhero), and "Shiny" (an ordinary pegasus who writes regular reports to Princess Celestia). With a group like this, and a town like Ponyville, misadventure is inevitable...
(Artwork by TheIronHorse on deviantArt, used with permission.)
Chapters (1)