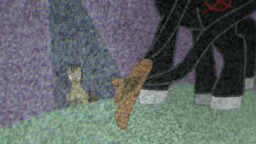 One from a city with an unfamiliar name,
One with a prismatic mane,
One who's curiosity
Will this day be the master key.
The next one stands out from the rest,
With masculinity he is blessed.
Next we have the audacious mare,
who insists that she will never be scared.
The last companion, who will give way,
Will be found cooking a souffle.
With these six ponies you must flee,
If you want to restore your history.
Six less-than-extraordinary ponies, one crazy stallion, one monster beyond belief, and eight hours to stop it all.
Sounds like a job for Doctor Whooves.
EDIT: Added character 'titles' for each chapter. These will let you know who is telling a particular chapter.
Chapters (12)