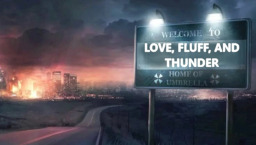 This story is a sequel to We don't go to Sub-Level Five
---
With the nightmares of the Silos behind them, Astral and Sassi begin to adapt to a world that lacks any understanding of the horrors now buried underneath glass and stone. The only creature in their life who can serve as a confidant is Arcane. However, the chaos-unicorn is busy learning to adapt to a world and society now alien to him. But they have each other, and their lives start to settle into a form of pleasant normality.
As life in Equestria and the Gryphon Empire continues on, Twilight and Tanzil are forced to confront troubles both within and outside their borders. Sometimes peace is but a thin, false veneer over chaos, and the two rulers quickly discover that their budding relationship may be the least of their troubles.
When a familiar horror emerges from the shadows, Astral, Sassi, and Arcane are forced to confront a terrorthat looms not only to engulf their new home, but all of Equestria and beyond. With their nightmares no longer confined to their minds, the three ponies desperately try to save who they can from the oncoming storm. When faced with some threats, all you can do is run and pray that it doesn't find you.
But for the two Thestrals, a unicorn, and their friends, they're sick of running. And they've got lots, and lots of ammunition.
Spoilers for We Don't Go to Sub-Level Five, Timeless, Sunspots, and Cure for a Toxin
Chapters (3)