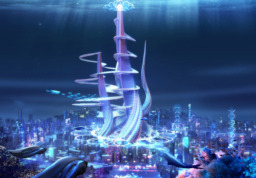 Beneath the clear blue waters of the Celestial Sea lies a great city known as The Reef. A metropolis without compare, The Reef is home to dozens of species, each one as colorful as the city's namesake. Together, the citizens of this underwater utopia create some of the greatest artistic accomplishments the world has ever seen, from incredible gravity-defying architecture to breathtaking stage performances. Seaponies, hippocampi, kelpies, and more live in harmony in The Reef, just like they have for centuries.
Toccata works the spotlight at The Reef's most famous musical theatre, Conch Hall. Ever since she moved to the city, she has dreamed of performing on stage, singing hit musical numbers before hundreds of sea creatures gathered in the auditorium. Music is her passion, her greatest pleasure, and her voice could put even the guild's top vocalist to shame.
Her only problem? Toccata is a siren, and The Reef has not allowed sirens to sing in public for centuries.
---
Edited by SolidFire
Chapters (1)