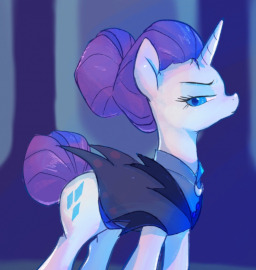 Source
After four harrowing years of civil war brought about by Nightmare Moon's return, Canterlot has finally fallen. Princess Celestia has been banished to the moon, and now a new alicorn rules over Equestria. For the supporters of Nightmare Moon, the new eternal night is a time for celebration. For the ponies who fought for Celestia, it means something else entirely. For when the war is lost and the victor demands fealty, the vanquished are given only two choices: bow low and kiss the ground beneath her hooves, or die.
Not everpony who bows does so out of love for the conqueror, of course. Some do it to bide their time. Some do it out of a sense of opportunity. Most bow merely to survive. All of them are liars. But how long can a pony tell the same lie before it becomes the truth?
And what happens to that pony when their lies are lies no more?
---
Edited by SolidFire. Inspired by the Nightmare Moon timeline in the season 5 finale, a particular scene from a particular show, and an entertaining game of Equestria at War.
Chapters (1)