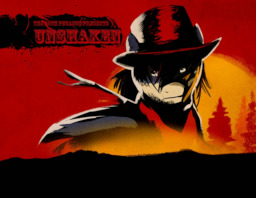 Source
It all used to be so simple: find a lead, survey the land, and grab a take to tide the Gang over for a few months. But the era of outlaws in the Equestrian Southwest is coming to an end, and it has no tolerance for ponies like Kestrel. Wanted by the law and stealing just to survive, Kestrel will have to take the fate of her band of outlaws into her own hooves and try to give them a good life... or die trying.
---
A comment-driven Choose Your Own Adventure story inspired by Red Dead Redemption 2. Key events in some chapters are in part influenced by dice rolls, which can be seen in my discord server. Be wary as the dice rolls may spoil current and past chapters.
As this story is different from traditional fare, there are a few caveats going in, inspired by another great CYOA story:
The chapters will be kept fairly short, ideally not longer than 1500 words per chapter, barring the choices and author's notes.
The vote will always have the last say, even if the choice they have chosen is suboptimal in terms of its effects in-world.
The story will end once the fate of the Gang is resolved, though it may end prematurely if Kestrel dies before this can happen.
You can see Kestrel's character sheet, along with important information about the Gang, here.
Special thanks to Ruirik for the cover art.
Chapters (127)