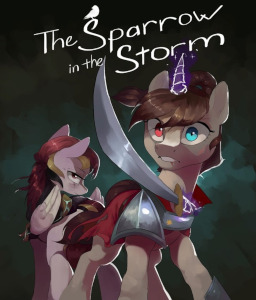 Source
This story is a sequel to Tales from Everfree City
---
The Equestrian experiment is failing.
Fewer than forty years after Commander Hurricane, Princess Platinum, and Chancellor Puddinghead united the three pony tribes into one nation, that nation stands on the brink of ruin. The Triumvirate that once led Equestria forward lies broken in the aftermath of war and civil strife, leaving only the unicorn queen, Platinum III, to rule from Everfree alone. The Cirran Legion, once the backbone of Equestria's military, has been dissolved, and with it, any semblance of control over the countryside has withered away.
To the south, along the fringes of equine civilization and settled lands, an old soldier flies alone. Once, she protected these ponies; once, she led them, standing shoulder to shoulder with the unicorn queen and the earth pony chancellor. But now she is just another sword in the wilderness, a leaf adrift on the winds of fate, as the twilight of her years fades away.
Because the Equestrian experiment is failing. And Commander Typhoon, daughter of the legendary Hurricane, is dead.
---
Art by egil. Editing by LoyalLiar
Part of the Price of Loyalty universe. Prior reading of A Beginner's Guide to Heroism and Tales from Everfree City is strongly recommended, but not required.
Chapters (34)