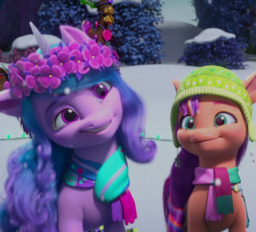 The holiday had passed, the rush was over, snow was still falling but nowhere near as bad as before. Everyone else but them was busy, leaving Sunny and Izzy alone in the Brighthouse. It was a quiet morning on a lazy winter day, to sit near the window and watch the flakes fall down while sipping on a mug of hot cocoa. Until Izzy and her traditions decided it wasn't.
---
Written for The Blue EM2 for Jinglemas 2022.
Special thanks to my boyfriend for proofreading assistance as well as coming up with the title.
Chapters (1)