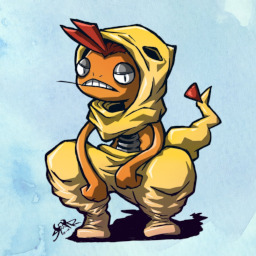 Source
Co- Written with Philosophysics
---
Meet Ryan. He's a pokemon trainer looking for Xerneas. He couldn't even say how close he was, but now he's a pokemon himself, stuck in a land of ponies. He hates asking for help, but it seems he'll need it. Now with his *Not* friend Akira, they'll go searching for Gods.
Meet Akira. He's a pokemon trainer too! Morals are a bit loose as he's a wide open sociopath. He's just going around looking for Arceus, so he can punch him in the face. And what's this? He's oblivious to his starter pokemon's crush... And gender. With his *Not* friend Ryan, he'll learn to love properly!
Meet Gilda. A brash young griffon who just got saddled with a brash young Ryan. She's going to have to teach him how things work in Equestria.
Meet Greta. A shy young griffon who is actually friends with Gilda. She's saddled with Akira. She may just have the hardest job of the four; making sure none of them kill each other.
Inspired by A New World, A New Way by zeusdemigod131
---
Cover art is not mine.
Chapters (5)