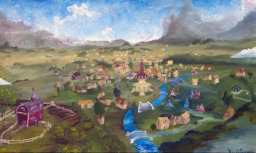 Source
Bronze Pocket is many things: a clever earth pony, a wealthy landowner, and a father of three children—Cluster Tale, the eldest and most intelligent son; Nova Steel, the brash middle-child; and Airglow Sky, humble and fresh-faced, as well as the youngest (and only) daughter. Very few of them like or trust one another, and would rather take their time and energy to other places, to simply avoid any blood-tied complications which always seem to arise from their father's antics.
And when they're together, as fate would sometimes have it, things escalate into volatility and resentment. It all starts when the siblings find themselves back at their father's house for vastly different reasons. What good, one may be inclined to ask, can come of it?
Thanks to Soge for editing the first couple of chapters, as well as to 0_0 for being my proof-reader up to Part III.
Chapters (55)