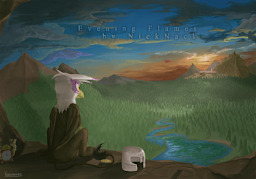 Source
Tensions grow hotter in the mining town of Farrington after the events of one disastrous night. The fallout from this blaze will test many citizens' relationships in fire. Some will falter, but some may perservere.
Before any repairing can begin, ponies—and one griffin—will have to take stock of their pasts, or else their futures may end up strangled by their scars.
---
Note: This is a sequel to Summer Days. I strongly encourage reading that story first.
Special thanks to Gaiascope for this awesome cover!
Chapters (10)