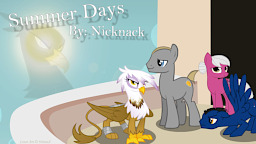 Source
Summer is the perfect season for things that grow. However, growth needs fuel, warmth can burn, and romance can be the most volatile fire there is. After she leaves Ponyville and lands a job as a city guard, Gilda will have summer days that are filled with lessons of growth, of love, and of pain.
---
This is a continuation of Heart of Gold, Feathers of Steel. I recommend reading that story first.
This story is concluded in Evening Flames
Special thanks to WentoX for this awesome, custom cover.
Chapters (8)