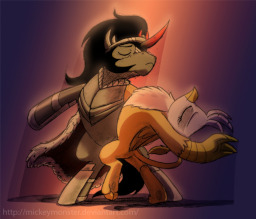 Source
In the capital city of Griffalia, Gilda leads a luxurious life of royalty—even if she doesn't care or know how good she's got it.
When she's suddenly thrust into an arranged marriage with the leader of another kingdom, she's going to have to learn some of the harder lessons of life, about family, and about herself.
---
This story was written as a commission for yamgoth, as part of the Las Pegasus Unicon Relief League Auctions. Tagged "Alternate Universe" because Sombra got nuked at the end of Season 3, Episode 2.
Chapters (4)