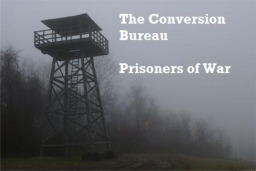 Have you ever considered what happens to those fighting in the Human Liberation Front if they were captured in action?
Many will try to escape the prison camps before they are shipped off to the Conversion Bureaus while others will unwillingly accept their fate. One such group of POWs are determined to escape their camp in the Hudson River Valley and continue their fight.
Clearly, they forgot the old saying.
"For you, the war is over."
Will contain content from The Great Escape and mention parts of no sh*t sherlock's 'New Tactics' stories
Rated Teen for language and violence
Chapters (8)