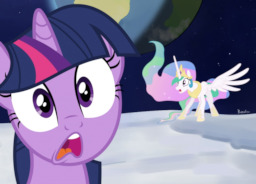 Source
Twilight has discovered one of history's darkest secrets. Nightmare Moon is real, and returning to conquer Equestria!
But Twilight has a plan. All Princess Celestia has to do is trust a complete stranger, and not panic if she's banished to the moon.
---
Prereaders: Short-Tale
Art Credits: Detail of a work by Biocrine, edited by adding vectors from Remul-LemLem, 90Sigma.
Chapters (1)