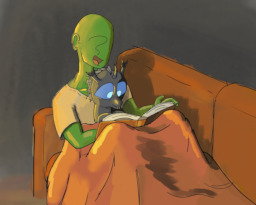 Source
Buggy CYOA is an ongoing adventure involving caring for a changeling; one who you discovered trapped in a dire situation in the Everfree Forest.
Life may be simple now, but many secrets lurk within this world, and things can change at any moment...
This is a story directed by the readers comments and participation, and will be incrementally updated as such.
You have the ability to influence what the next chapter will hold.
What will you say? What will you do? Where will you go?
How will you navigate your way through the challenges you may face?
The answer to that is up to you.
Instructions on how to participate and direct how the story continues can be found in the Author's Notes section of both the first and the latest chapter.
Regarding the story rating: Events that have transpired up until this point are firmly T rated, but due to the nature of this being a reader-driven CYOA story, the rating may change to M in the future if necessary. Please be aware of this.
===NEWS===
06/06/22: Still not dead yet! Apologies for the delays, but the early chapter rewrite is nearing completion!
02/02/22: Some of the early chapters, specifically chapter 1, are being rewritten for a better reading experience. Looking back on them, they're a bit rough around the edges for my taste and could be improved. Stay tuned for that!
Chapters (23)