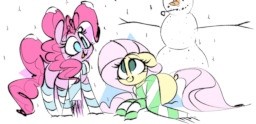 One winter in Ponyville, Pinkie Pie is forced to move out of Sugercube Corner when an infestation of sugar mites in her room gets to be too troublesome. Luckily for Pinkie, Fluttershy has space in her home and doesn't mind having a friend over in a time of need!
But having Pinkie around so often leads Fluttershy to discover feelings she didn't even know she had. Is there more to these random bouts of flushed cheeks? And if so, what will Pinkie do when she finds out?
That is, if Fluttershy tells her.
---
UPDATED AS SOON AS I CAN PRODUCE A NEW CHAPTER! (busy life now, I am sorry to those following this... please leave a like and a comment if you're looking for quicker updates! If the demand is there, I can focus on this project more!)
Chapters (5)