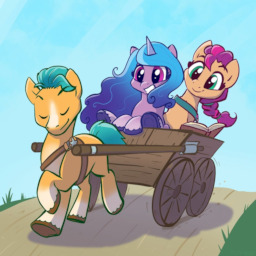 Maretime Bay...
A town of sailors and merchants - all Earth Ponies, of course. The thought of a Unicorn or Pegasus wandering in is impossible.
And then, of course, a Unicorn wanders in.
It's the beginning of an adventure hundreds of years in the making!
---
Now updating every Thursday (I mean it; I do!!!)
---
Arc 4 is here! Sunny and friends, with newest addition Regan, head north. A storm is brewing above the Frozen North threatening to swallow the Realm, and the Yeti Prince is behind it. The first real test of Sunny's resolve has come – and she may not walk away this time without losing something.
Chapters (31)