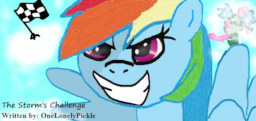 Rainbow Dash is arguably the fastest pegasus in Ponyville, maybe even Equestria. But does that make her the best flyer in all the land?
When Maelstrom, founder of the Equestria Flyers League, comes to Ponyville to initiate his "challenge" — three days of intense races over the skies of Canterlot — Rainbow Dash is giddy to strut her stuff. But the competition is stiff, and it will take more than speed to win the day.
Meanwhile, Rarity and Applejack get embroiled in a contest of their own, Fluttershy runs into an old stallion friend, and Pinkie Pie's running around investigating the reason for her "twitchier than usual" tail. But where in the world is Princess Twilight Sparkle, and what could it possibly have to do with Maelstrom's races?
The Mane 6 begin the first of six life-changing adventures in... The Storm's Challenge!
---
Updated at least twice every week on Thursdays and Sundays! Additional updates may drop on any other day.
Chapters (27)