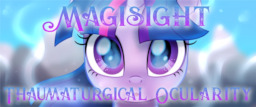 What began as a studious endeavor into the origins of tribal magic quickly becomes rife with bedraggled exhaustion as a strange message invades Twilight's dreams, forcing her research to take a drastic new course that leads her on an adventure all across Equestria. For every answer she finds, yet more mysteries arise. What is the source of the daunting dreams which plague her at every moment's rest? Will she see with eyes unclouded... or lose sight of what's truly important?
---
Written by PsychicKid
Edited by Ember Heartshine
Cover art by Prince-Lionel (http://Prince-Lionel.deviantart.com)
Cover text, insert music, & special thanks: Cadenza Heartsong (https://www.youtube.com/c/Heartsong)
Pre-reader chapter 31: Floral Spring
---
Links to my story's music can be found below. They are intended to be paired with certain chapters/sections of the story, and emphasize a specific location, so give them a listen for extra ambience! Their paired chapters are indicated by the link URL. All songs produced by Cadenza Heartsong.
Amethyst Hollow - Chapters 7-9
Peacegrove Village - Chapters 12-19
---
Takes place after S7/The Movie, but before S8. Story was drafted when S8 was brand new, so it does not take anything from S8 and later into account.
Chapters (33)