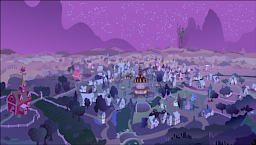 Source
CURRENTLY GOING THROUGHT A REWRITE
Sunset Shimmer, the prized student of Princess Celestia, is sent to Ponyville to prepare the Summer Sun Celebration. Unknowingly to her, her actual mission is to stop Nightmare Moon. However, she was never meant to be the Element of Magic.
With Celestia gone, Equestria is left unprotected against the mad alicorn. Twilight Sparkle, the faithful student of Princess Celestia, is determined to avenge her master and save the kingdom.
IMPORTANT: While this story was being written, some things in canon changed. That means a few things here are going to conflict with canon. Please bear with me on this.
For example, here Maud is the older sister, with Limestone and Marble being middle twins, and Pinkie being the youngest. Also, the friends Twilight had in Canterlot are not the same ponies that live/visit Ponyville frequently. Because silly canon is silly.
Chapters (11)