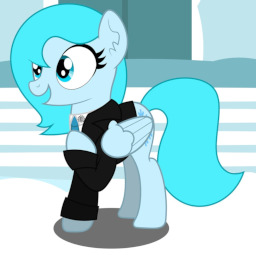 A few months before, the Battle of Neighvarro ended with the destruction of an Enclave flagship. These events lead to the rise of the Progressive movement in the Enclave, and to sweeping changes in thought to ponies across Equestria.
Caught up in these waves of political change is Winter Breeze, a schoolteacher turned politician who was selected as the candidate for the new Progressive Party. But she must face her own challenges to make sure she survives and can make the Enclave better.
This is her story.
---
Set in an alternate universe of my fic Fallout Equestria: Survivor's Guilt.
My 2018 Christmas special, I know it doesn't seem like it but it is.
Written with the help of the always amazing LittlestofPips, who helped come up with many of the ideas here as well as writing a character in part 2.
Chapters (2)