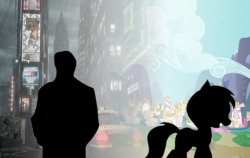 Edward can't make up his mind on what he wants to do. Become a pony? Or remain human?
Worried about a past he can't forget, he finds himself standing outside the Bureau looking in on many a days. Hoping to find the answer he's seeking.
When a pony with a mission suddenly pops into his life. He's forced to confront buried pains, and an uncertain future.
As well as discover just how he ties into all of this...
Chapters (1)