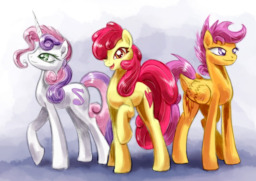 This story is a sequel to Discord's New Business
---
This is an unofficial side story to KnightMysterio's "Discord's New Business" Series.
Discord's New Business was great! The CMC decided to use it to become adults for the day, aiming to taking in all the wonders of Manhatten and finish it off with a show!
Yet as the day wears on, they began to find a lot of their expectations falling short. The biggest being their first trip to a night club.
Stage Light on the other hand is just a poor earth pony musician dragged there by his sister for a night out.
The CMC had expectations set high. Stage Light had practically none at all.
Two separate ponies meeting for a brief moment, then part ways for what would have normally been forever.
It's in those brief moments, that destinies can interweave, and pave the way to something...
Magical.
Chapters (2)