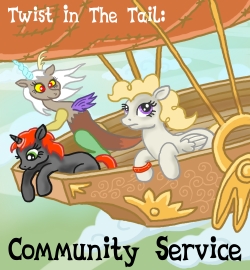 This is a direct side-story spinoff to "A Twist in the Tail".
Edge used to be human. She used to be a man. Then one day, she was foolish enough to break into a Conversion Bureau to steal some Potion. Believing it all to be a plot to 'scoop out the brains of humans', he downs it. She wakes up as a pegasus pony with an audience with the princesses...
For her crimes, she is sentenced to community service.
This won't end well ;)
Chapters (5)