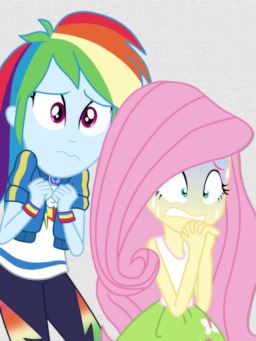 The scariest time of year is here. Rainbow Dash is normally on guard to defend her oldest and most skittish friend when Halloween roles around. However this year Fluttershy surprises her and asks to be included in the festivities, to a rather extreme degree. What is the reason for this out of character behavior, and will either girl be able to handle it.
Decided I wanted to do a Halloween story and got it done in a day, so no idea if it's any good. My second attempt at the Equestria Girls universe, but my first to make it to print.
Just a quick one shot, but like with all my stories I like feedback. Let me know what you think, good or bad.
Wasn't sure if it should be classified as comedy or drama, so I put both. Had to drop slice of life though, so let me know what way you think it leans.
Chapters (1)