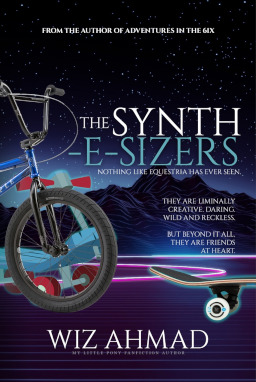 This story is a sequel to Six Discoveries
---
Silverstream and Smolder start to discover all the fun and joy there is to BMX and skateboarding. Scootaloo soon joins in with her scooter, and they decide to form a trio team called "The Synthesizers". However, their stunts, tricks, and high speed runs are soon picked up by newspapers and photographers... and The Washouts.
As the three set out on a journey to have wild and daring fun, conflicts with legal authorities, the lingering effects of injuries, fame, and money start to drive the close-knit trio apart, threatening their friendship.
NOTE: "Sad" tag for the low and solemn moments in the story. Also, the bike and skateboard shown on the front cover are mere placeholders - they are not exactly the same as the ones mentioned in the story.
Loosely inspired by the Bones Brigade skateboard team from the '80s. Learn more about them here.
Cover art (c) me and Nathan @bookcovermall
BMX image (c) WeThePeople Bike CO.
Skateboard image (c) Birdhouse Skateboards
Scootaloo's scooter vector (c) CaffeineJunkie
Chapters (17)