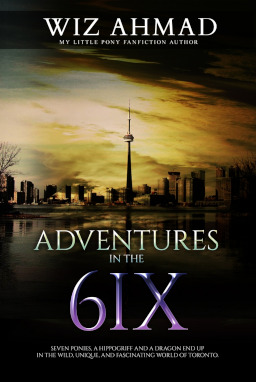 After Songbird Serenade's concert, Twilight Sparkle attempts to give Tempest Shadow a fresh start on life, but Tempest is anxious and stubborn, insisting that there'll be nopony that she can relate to heart-to-heart, the frightened townsfolk of Canterlot only adding to her attitude.
While attempting to restart the Mirror for a teleportation presentation, Twilight Sparkle causes a serious malfunction. Tempest tries to use her horn to blow a fuse and terminate the portal's magical power supply, but ends up overclocking the portal, which becomes overpowered and pulls them all in. Moments later they fall through storm clouds, eventually hitting hard pavement. Dazed, the group of friends finds themselves on the run-down streets of downtown Toronto, where they face even greater troubles - and a group of friendly faces.
WARNING: This story contains:
- Discussion about drugs
- Violence and some blood
- Cursing, though no vulgarity
- Sex tag is for romantic talk only.
P.S.: This story takes place after the events at the end of the MLP Movie. My Little Pony as a TV show and a franchise does not exist on Earth in this story, so no human knows of the characters' names or existence.
Chapters (41)