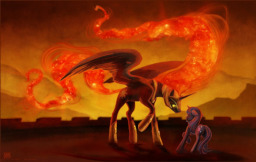 Source
The princess has gone quiet. Ever since the nations began uniting under one flag, the princess has refused to see anypony, and nopony, not even Celestia's sister has seen heads or tails of the sun goddess.
She only wants to see her student.
Twilight ventures to the castle to see what exactly is the problem.
This whole thing was inspired by one little part in the cover picture. I don't know how many people agree with me, but she (Nightmare/Celestia) seems more concerned than anything else.
EDIT: I was planning on making this a one shot, but fate insists that I change that. No longer will this be a one shot, but a two-parter, I think. 5 comments. Holy shiznits, I must have done something right.
Chapters (3)